Nammos Courchevel: Where Ski Slopes Meet Luxurious Nightlife
29/09/2023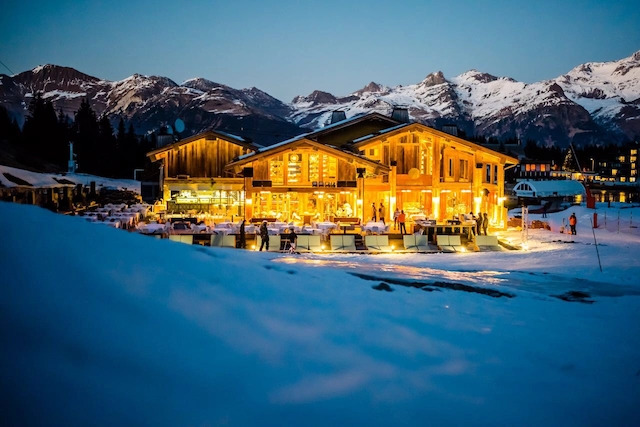 Source: LiFE Style Magazine
When it comes to selecting the perfect nightlife destination or dining hotspot in the picturesque village of Courchevel, the choices are abundant. But if you're looking for an experience that mixes luxury, great food, and a warm atmosphere, there's no better place than Nammos Courchevel.
Join us as we go on a trip where the beauty of the mountains meets the draw of a lively social scene.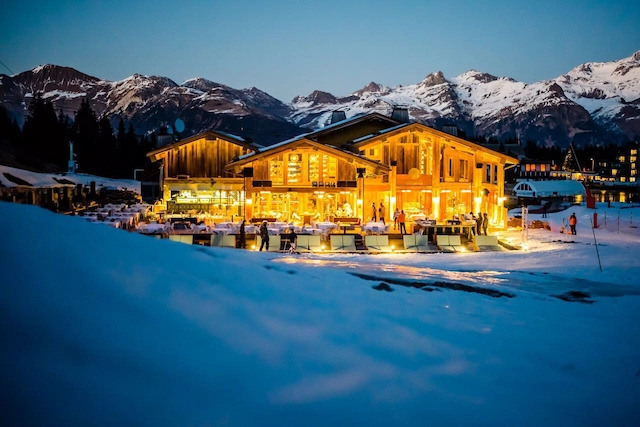 Why Should You Choose Nammos Courchevel?
Source: Behance
Location and Ambiance
Nammos is in the middle of Courchevel and has a beautiful setting that shows off the beauty of the mountains. The restaurant is in a beautiful place, surrounded by snow-covered hills. The setting is a mix of modern luxury and rural Alpine charm. This creates a friendly, welcoming atmosphere that makes people want to come.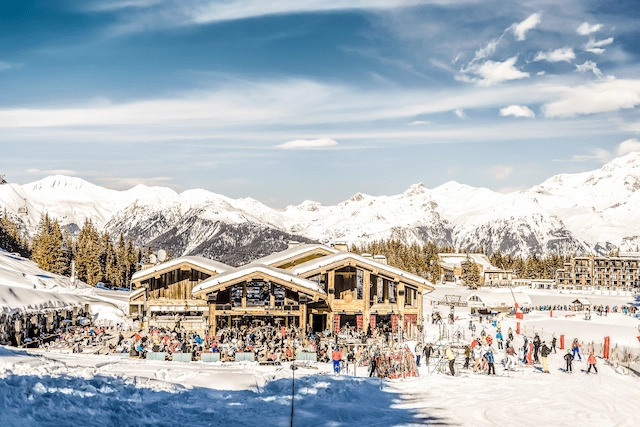 Culinary Excellence
Nammos Courchevel transforms your dinner into an unforgettable culinary adventure. There's a large selection of delicious dishes that have been expertly prepared. From fish that makes your mouth water to Mediterranean food with lots of flavor, the chef's skill and the freshness of the products are clear in every bite.
Diverse Entertainment and Events
Courchevel is at a relatively high height of 1850 meters for a French ski resort, and there is always snow there! From the beginning of December until the end of April, you may go skiing here. In the vicinity of Courchevel, which is located between 1100 and 1650 meters above sea level, are several tiny communities.
The most excellent winter resort in Europe is this gorgeous location! Greeks turned Courchevel into a party destination comparable to Mykonos. This chilly location offers a warm environment and a chic spot for eating or having fun!
Well-Equipped Accommodation with Numerous Resorts/Hotels
The diverse accommodations with high-quality services are one of Nammos Courchevel's distinguishing qualities. Whether you choose a modest chalet or a sumptuous hotel room, there will surely be a choice to fit every taste and budget.
Nammos Courchevel: The Ultimate Nightlife Destination
As the sun sets over the picturesque French Alps, Courchevel comes alive with revelers looking for entertainment, glitz, and life-changing adventures. The hub of this nightlife scene is Nammos Courchevel.
Let's look at what makes Nammos Courchevel the most popular place to go out at night in this Alpine paradise.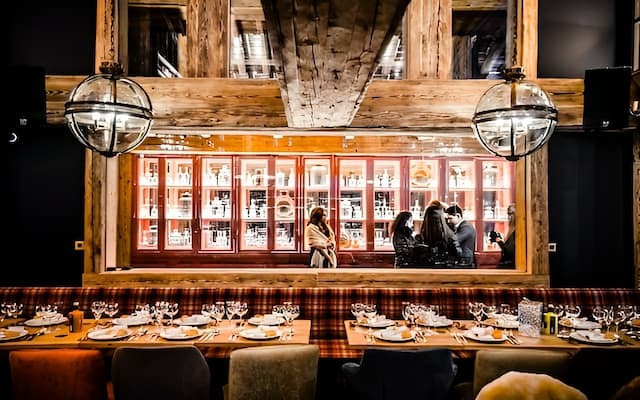 Source: Behance
The Elegant Scene
The name Nammos Courchevel has long been connected to elegance and luxury. You enter a glitzy world as soon as you enter. Elegant interior decor, sparkling lighting, and glittering atmosphere make the perfect setting for a spectacular evening. If you want to indulge yourself or attend a special occasion, Nammos Courchevel is the ideal location.
Exclusive Nightclubs
The nightclubs are among the best parts of the nightlife in Nammos Courchevel. These clubs are unique compared to others. Instead, they represent the pinnacle of exclusivity and luxury. The world's top DJs and bands often perform on stage and provide the sounds that keep partygoers dancing till the wee hours of the morning. Nammos Courchevel offers top-notch entertainment in a luxurious environment, making it a wonderful venue to attend a party.
Experiences for VIPs
VIP visitors at Nammos Courchevel are treated like kings and queens. The VIP experience is the greatest since it includes exclusive seating areas with the best views and bottle service. Your requirements are met by the attentive personnel, who ensure your night is memorable and distinctive. Make a VIP table reservation and indulge in life's finer pleasures to elevate your evening.
Live Shows and Events
DJs and dance floors aren't the only nightlife options in Nammos Courchevel. This popular nightlife destination also hosts fascinating events, such as themed performances, live bands, and vocalists. The thrill will engulf you because of how infectious it is.
Security and Safety
Nammos Courchevel makes a great effort to ensure all its visitors are secure. Thanks to the security personnel's training, everyone may enjoy the night in a secure and pleasant setting. Also, the place follows all health and safety rules, which gives customers peace of mind, especially in light of the current global outbreak. Your health and well-being are the top priorities at Nammos Courchevel.
Top 5 Hotels Near Nammos Courchevel: Hub of Luxury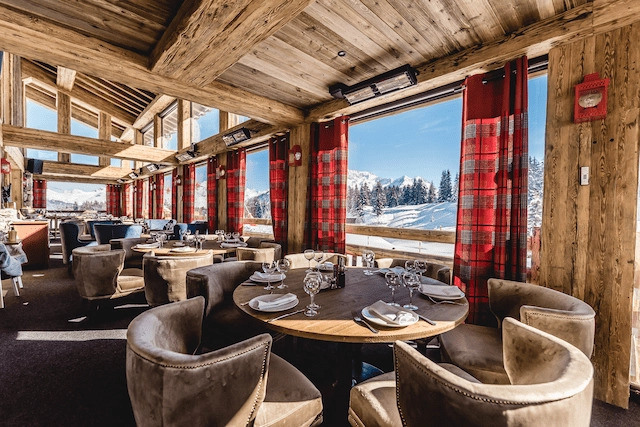 Source: Behance
Cheval Blanc Courchevel
One of Courchevel's most opulent hotels, Cheval Blanc, is located at the base of the slopes. The Bellecote slopes are just outside your door, and fashionable boutiques are only a short distance away. Although the hotel offers 36 rooms and suites, Cheval Blanc's "Le Chalet" is the place to stay if you want more seclusion.
You have access to the hotel's superb amenities while staying in the chalet, not the least of which is Le 1947, its three Michelin-star restaurant. With only five tables, this exclusive restaurant highlights the Savoie area by using excellent foods that have been prepared with the highest care. This Alps restaurant is one that foodies must eat at least once.
Grandes Alpes Private Hotel & Spa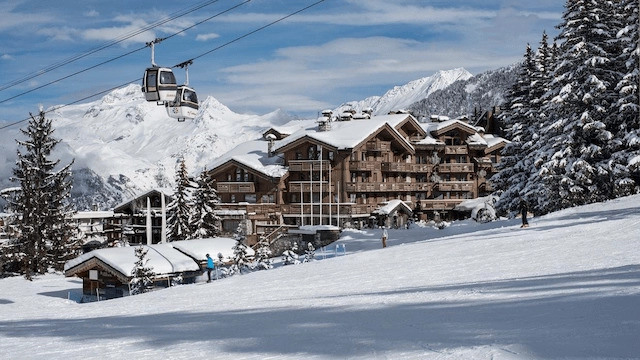 Source: Oxford Ski
The Grandes Alpes Private Hotel & Spa is the pinnacle of alpine elegance and refinement. It is situated on the edge of the gentle Bellecote slope, just above the main lift station, and close to the shops, cafés, and restaurants.
Nine large private apartments with three or four bedrooms, created by renowned interior designer Jean-Marc Mouchet, provide a home away from home. The apartments each contain a separate open-concept kitchen, wine cellar, and living and dining areas. The three-bedroom Amethyst includes a south-facing patio with a hot tub, while the four-bedroom Emerald has ample living space, a small spa with a massage room and steam room, and a designated children's play area.
K2 Palace Courchevel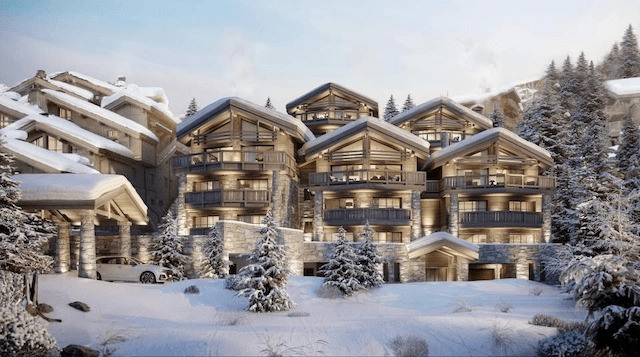 Source: lek2palace.com
Le K2 Palace, a remarkable five-star luxury hotel in Courchevel inspired by the Himalayan mountains, is situated in the center of the resort. The interiors with a Tibetan motif are decorated with elaborate fabrics, paintings, and earthy tones. Exploring Les 3 Vallées with ski-in/ski-out access from the ski room is really simple.
K2 Palace is perfect for families since it offers roomy family suites with connected rooms and a separate Kids Club where younger visitors may participate in supervised activities and entertainment. There is a lounge with arcade games and simulators for older kids. The hotel's restaurants provide kid-friendly menus, and the concierge service can help you set up ski lessons. On request, there are also babysitting services available.
L'Apogée Courchevel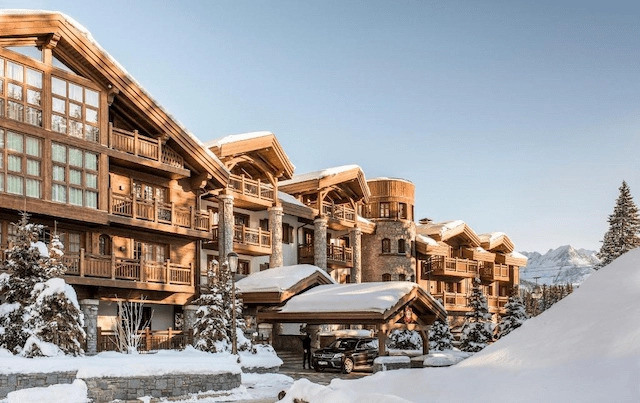 Source: booking.com
L'Apogée is a five-star ski-in/ski-out hotel next to the first station of the Jardin Alpin gondola that has a distinctive fusion of classic chalet-style architecture and modern luxury. The food is also outstanding, with two restaurants offering French and Japanese cuisine.
The L'Apogee hotel features 53 elegant suites and two swanky chalets, L'Amarante and L'Alpensia. The chalets, directly attached to the hotel, combine the privacy and comfort of a private residence with all the benefits of staying in a top-notch hotel in Courchevel. The chalets are decorated in a contemporary, vibrant design and equipped with a spa, a home theater, and unique views over the renowned 3 Vallees.
All of the hotel's upscale amenities, including the spa and swimming pool and the shops and restaurants, are within easy walking distance. A butler and private chef are also available upon request.
Airelles Courchevel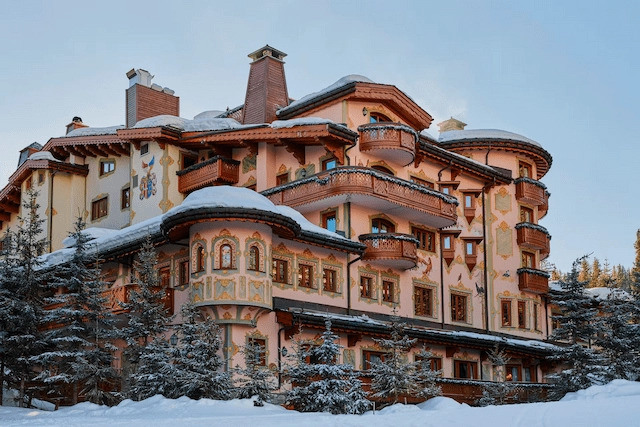 Source: Airelles
Airelles Courchevel's prime location on the Jardin Alpin slope helps it become the top choice for serious skiers searching for old-world elegance and charm in the center of Courchevel 1850.
The French Alps' premier ski resort, Chalet Ormello, is a genuine mountain haven with all the amenities. While the kids play in the games area with cutting-edge and classic toys, adults may relax in the indoor pool, massage booth, hammam, and Jacuzzi. There is also a private theater where you can view any movie.
Final Words
In Nammos Courchevel, you can find an unbeatable experience combining the mountains' beauty with the charm of a luxurious nightlife. During the day, you can ski down the clean slopes, and at night, you can dance the night away in a glamorous setting. So, if you're looking for the perfect mix of excitement and class, remember that Nammos Courchevel is where the ski slopes meet the posh nightlife.