Why You Should Stay at L'Apogée Courchevel on Your Ski Holiday
22/06/2023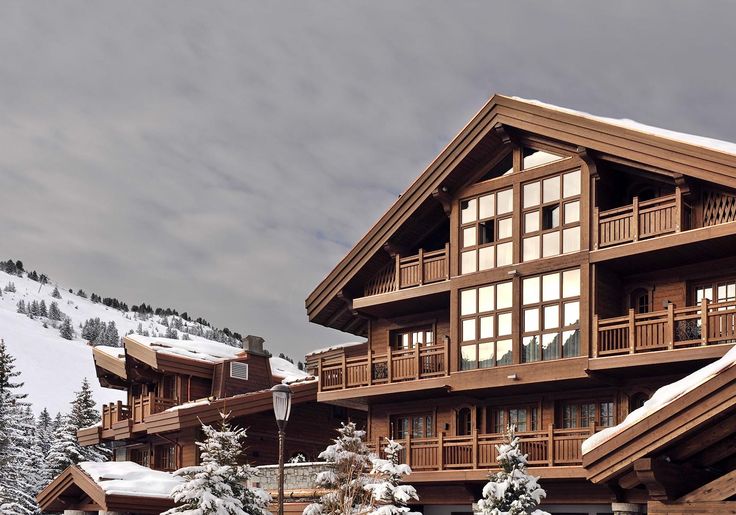 It's not exaggerated when saying L'Apogee Courchevel is a wonderland for all skiers and snowboarders who want to enjoy the beauty of the Alps with luxurious facilities and high-end services. This superb destination is at the peak of Le Jardin Alpin, Courchevel 1850, where you can directly access one of the world's largest skiing areas. Besides the ski-in and ski-out area with a first-class Ski Room, the hotel also offers an authentic Japanese restaurant, a wonderful spa by La Prairie, and a fun kids club. And what's else to expect? Let's find out!
The Unmatched Elegance of L'Apogée Courchevel
The resort features a unique design that you can't find anywhere else!
Architectural Beauty and Room Design
L'Apogée Courchevel provides a wide range of accommodations, including 53 rooms, 1 penthouse, and 2 private chalets. All come with high-class amenities and luxury and gorgeously warm designs. Though the suites are big (with a minimum of 280 square feet), you will still feel the cosiness thanks to the plaid carpets and the soft and luxuriant furs. All you want to do after hurrying off the snowy slopes is to be wrapped in your soft bed. The wooden facilities and French ambience of these suits, for sure, will not let you down.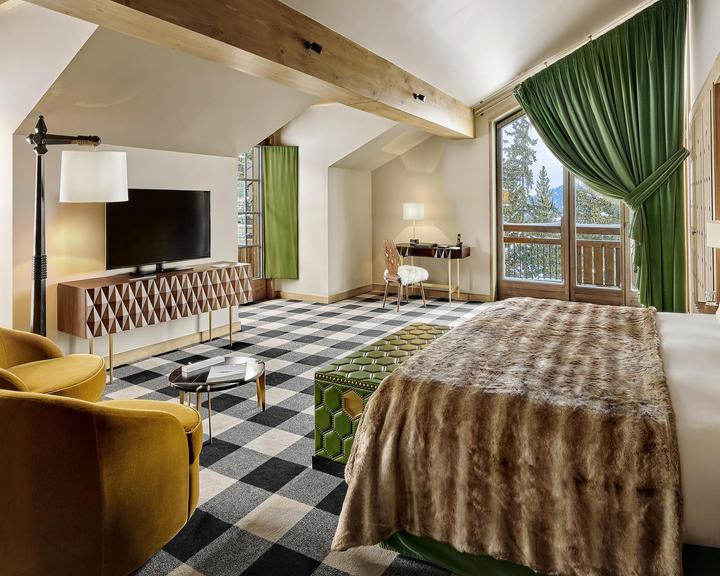 The Aesthetic Blend of Comfort and Luxury
Cosy as cashmere is what people say about L'Apogée Courchevel. Customers will find the hotel a warm house with fully-equipped modern and luxury facilities. Most suites have an additional sofa bed, a Nespresso machine, and even a baby cot. Some rooms are accessible, making them suitable for families.
On the other hand, the penthouse and the two chalets, L'Alpensia and L'Amarante, bring your enjoying journey to the next level. They are the blend of comfort and seclusion of an exquisite private home. The chalets, located over five floors, are incredibly spacious, with nearly 6000 square feet to accommodate a total of 10 people. The style is modern and colourful, featuring elegance.
These private Alpine homes of the five-star L'Apogée Courchevel, are designed with a private conveyor belt for customers to move directly back from the ski-in/ski-out facility. Besides, there are steps away from other exclusive services such as restaurants, a spa, a swimming pool, etc. In addition, the hot tub on the rooftop with the snowy landscape is worth a high ranking for the hotel.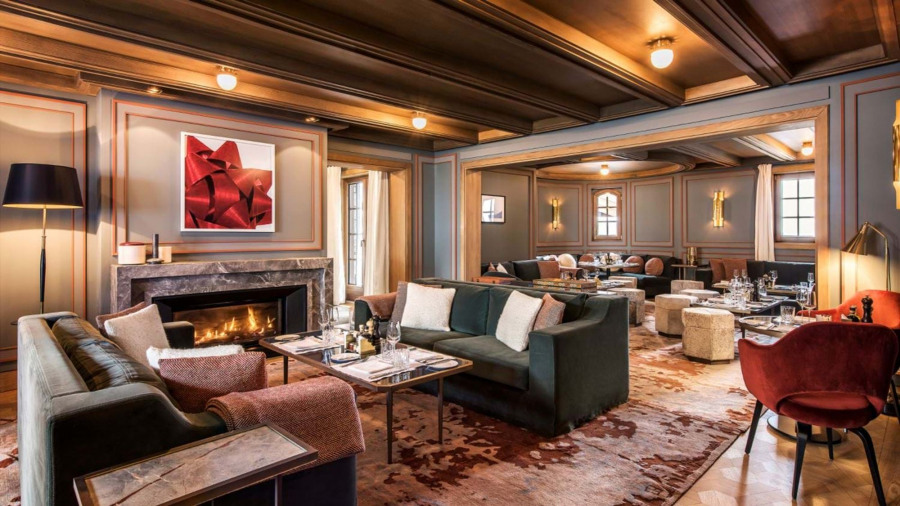 Stunning Alpine Views and Scenery
Situated in the top location of Courchevel 1850, L'Apogée Courchevel is surrounded by snowy mountains. Broadening your eyes from this retreat, you'll capture the stunning views over the valley. You can see the ski slopes or snowy woodland scenery from the window of your room or from a private balcony or terrace in some suites.
Outstanding Skiing Facilities
People come to the Alps to ski and enjoy outstanding skiing facilities. With L'Apogée Courchevel, there's no doubt about that.
Ski-in and Ski-out: Ultimate Convenience
Regarding the ski-in/ski-out facility, we should not miss the 40-meter private conveyor belt. You just need to ski out from the doorsteps, and the escalator will directly bring you to the warm and aromatic ski room of the resort. Take your time to relax after the skiing adventure and enjoy the majestic snowy panorama.
State-of-the-art Ski Equipment Rental
The ski room is well-designed with top sporting facilities. Take a look at the luxury ski accessories at the Ski Room Shop; you will see the famous L'Apogée Courchevel skis by Nidecker or other cutting-edge gear and the latest snow fashions.
Moreover, the professional team is always there to help you with the equipment rental. The team members not only make sure of the equipment's excellent condition but also check if it fits you to ensure a smooth and comfortable skiing day.
Professional Ski Instructors for All Levels
L'Apogée Courchevel offers professional ski instructors to assist you with the activities. There are always instructors for your level. No worries if you are a beginner; these attentive experts will help you out.
Unforgettable Culinary at L'Apogée's Restaurants
Don't waste your chance of a gastronomic journey here with fine dining in gourmet restaurants. The first option is Koori, a Japanese restaurant serving elite sushi.
Or, if you want French cuisine in an intimate ambience, go for Le Comptoir L'Apogée. Besides, casual lunches are served in Le Bar de L'Apogée.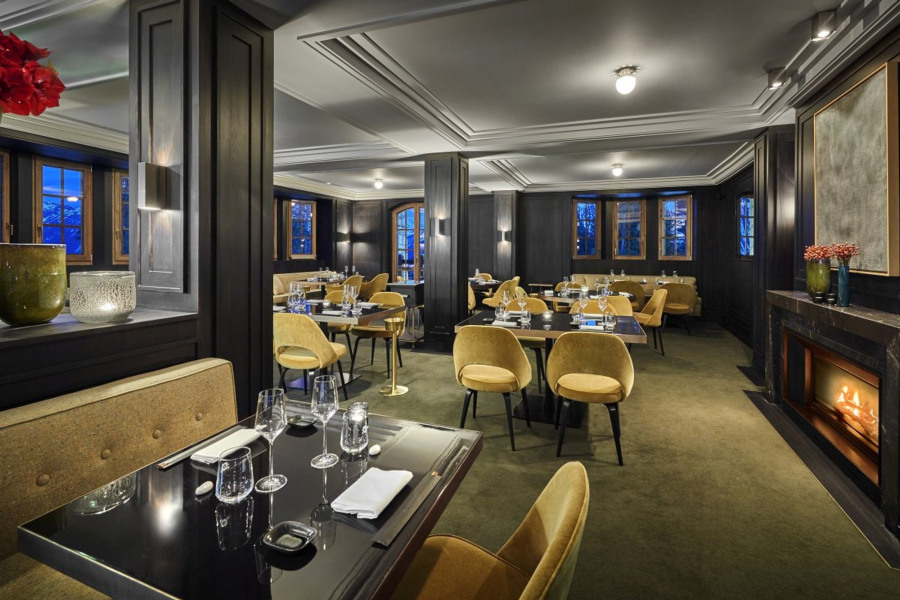 An Array of Luxurious Amenities
Coming to the resort, you have a chance to enjoy a series of luxurious amenities. The 11-meter mosaic pool will help you unwind before the sauna and salt cave treatments.
Working out helps you stay fit and be ready to master the ski slopes; that's why there's fitness. The fitness features with TechnoGym equipment, such as bikes, treadmills, Kynesis station, and elliptical trainer. A coaching room is also available to help you prepare the strength and skills needed for a perfect ski.
In addition, the fabulous kids' clubs are also another highlight of L'Apogée Courchevel. The Mini VIP 1850 creates a great sensory environment for toddlers with colourful design, interesting science, and magic tricks. Meanwhile, the other one, the Freestyle 1850, is a place for young boys and girls of 11 to 15 to meet up and join fun activities such as watching movies, playing computer games, and table tennis matches.
Exemplary Customer Service
Coming to L'Apogée Courchevel, you will experience their five-star customer service. All staff are well-trained, cheerful, and attentive. They never leave you with a request that hasn't been fulfilled. Anywhere you go, from the reception to the ski room, restaurants, or spa, the treatment is at a royal level.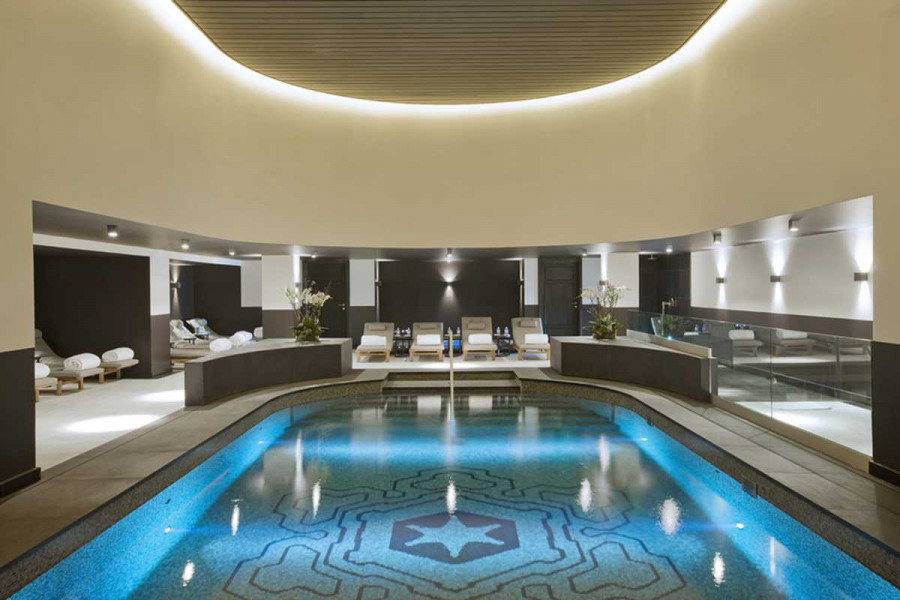 What is The Best Time to Visit L'Apogée Courchevel?
If the price tag is your biggest concern, then you should go to L'Apogée Courchevel during the low season in January or March. Prices also vary depending on what day of the week you choose to stay. The cheapest deals can be available on Saturday and Sunday. Avoid booking on Thursday as it's usually more expensive.
Book your Next Ski Holiday at L'Apogée Courchevel with Courchevel Chalet and Apartment
There is an abundance of reasons why L'Apogée Courchevel is a desirable destination. If you want to enjoy your next vacation in the resort, don't hesitate to contact Courchevel Chalet and Apartment. Our customer service is available 24/7, ready to listen and help you arrange the perfect ski holiday. We will be with you from the initial step to the final one, guaranteeing you have a wonderful experience.