Les Airelles Courchevel: Merging Tradition with Modern
31/08/2023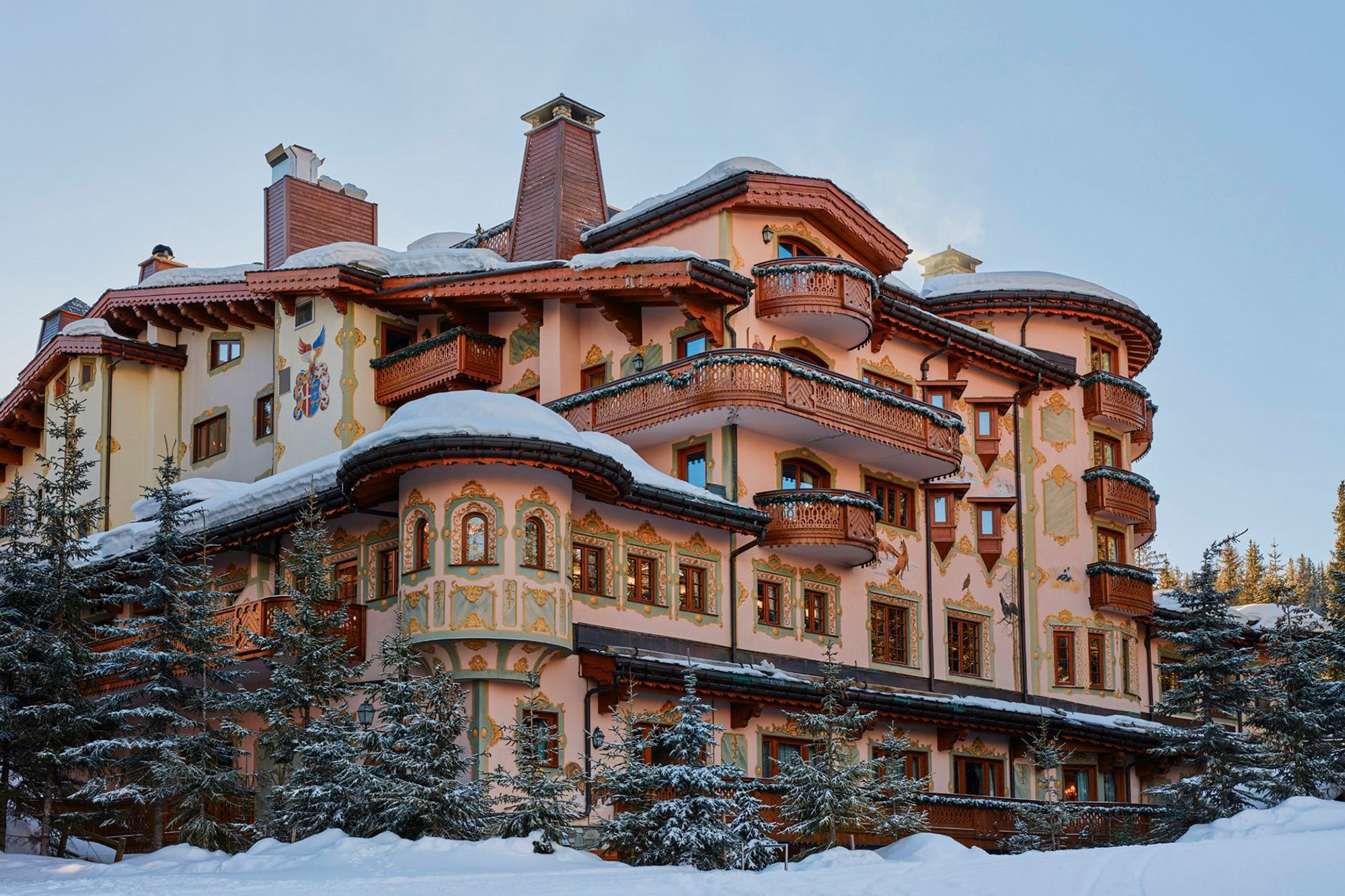 Les Airelles Courchevel belongs to Courchevel, a resort steeped in luxury and charm. Coming to the hotel, you will have a chance to enjoy Courchevel 5-star holels and services, guaranteeing you unforgettable memories for your winter trip.
Hesitate no more, but scroll down for more nitty-gritty details about this place!
Experience Winter Magic at Les Airelles Courchevel
Location
Les Airelles Courchevel is situated at a strategic location. It stays in the center of the showiest district of Courchevel 1850, the Jardin Alpin. The hotel is just a few steps away from the well-connected Jardin Alpin piste.
It is very convenient to get to the property. The nearest airport, Chambéry-Savoie, is only 110 km from the hotel. Airelles Courchevel also provides a paid airport shuttle service.
Design Concept
Coming to the hotel, you will be surprised by its glamorous look and spectacular decor. This inspirational mountain chalet has the air of an Austro-Hungarian castle in a fairy tale. It features caramel-tone woods, luscious jewel-hued textiles, and crackling wood fires. When the fire is on, the palace becomes blinking through the stained glass windows. The property is surrounded by towering pine trees, creating a cosy, charming, and whimsical atmosphere for this life-sized gingerbread house.
Rooms and Suites
Rooms
The Classic room boasts a warm, elegant, and cosy atmosphere with the decoration of Australian paintings and wood and oak accents. It is combined perfectly with ultra-modern amenities.
The Deluxe room offers a standing view of the snowy landscape outside and a spacious living room area. The area will remind you of French history with antique wood furniture and print curtains.
Both rooms are an ideal place to relax after a long day of skiing. These sumptuous rooms provide a private shower, hammam, and bath.
Suites
Junior Suite: This 40m2 Suite opens onto the slope with a magnificent snowy mountain view from your private balcony. It boasts an aesthetic design with oak-paneled walls, deep armchairs, and sumptuous paintings.
Junior Suite Prestige: From the sitting room and bedroom of the Suite, you can enjoy the view of the standing mountain. It is a 65m2 suite with the highest quality amenities that make you feel right at home.
Junior Prestige Suite Myosotis: This spacious Suite features a separate living space and a second sitting room with a panoramic view of the Jardin Alpine trees. It also has doors that open directly onto the snow slopes.
Junior Suite Prestige Valley: This is an ideal option for family and friends gathering. It offers three luxurious rooms: the dining room, sitting room, and the main bedroom, with different stunning views over the Jardin Alpin.
One Bedroom Suite: You can immerse yourself in the beauty of the Alps by looking at the south side of the hotel with a view over the Tarentaise Valley. All are decorated in classic style with rich mahogany woodwork.
Jardin Alpin Suite: The Suite is located on the ground floor, featuring two bedrooms and a private entrance. You have a truly magical experience living here with the wonderful views of Jardin Alpin.
The Suite on the ski slopes: This Suite is spacious with a surface area of 110m2 and able to fit 4 people. One of the bathrooms features private access to the slopes.
Aubepine and Cardamine Suites: It's located in the historic southwest façade of the hotel, where you can capture the mountain landscape from one of the 2 balconies. Its decoration is stylish and sophisticated, with a large sitting area with wooden amenities.
The Lys Martagon Suite: The suites have three warm and inviting bedrooms and a balcony to admire the stunning landscape of the Alps. The living room opening out onto the mountains is an ideal place for fire events in the evening.
The Gentiane Suite: Its two bedrooms and a luxurious junior suite are designed with an elegant setting, vintage furniture, and an authentic aesthetic. Feel free to admire the beautiful mountain settings from the comfortable beds or the balcony.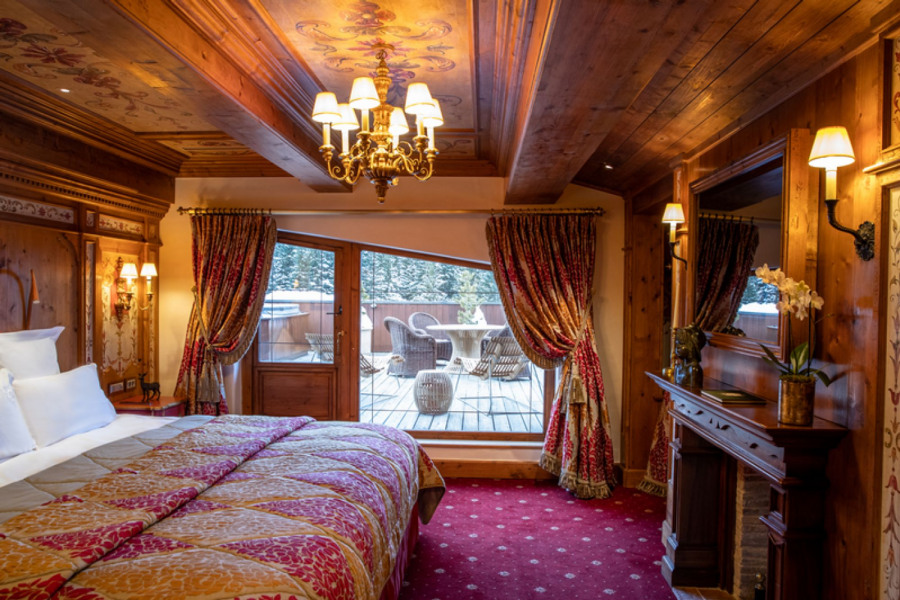 The Apartment
It is the most prestigious of all sumptuous suites. With a 515m2 surface area, the apartment features glamorous and imbued spacious rooms. It also includes dedicated butler and exclusive services.
The Chalet Ormello
This luxurious and modern Charlotte features non-spacious bedrooms, two fireplaces, a dining room, a private bar, a cinema room, and a games room, offering you all entertainment and relaxation in one.
Food and Drinks
Les Airelles Courchevel offers you a culinary journey on the mountain of Courchevel. The hotel boasts 6 most sought-after restaurants. Two of them are on the slopes. They're a suitable place for friends and family gatherings, serving a wide range of cuisine for everybody's taste buds.
You may want to start your immersing journey in the friendly high-end restaurant La Trattoria, which will take you on a voyage of authentic and tasty Italian palates. You will totally enjoy the transalpine gastronomic experience with carefully selected ingredients.
Or you can land on La Table des Airelles, where traditional and authentic French dishes are served for a culinary experience like no other. You can find there a delicious buffet, seasonal fruit, and hot drinks.
For lunch on the slopes, you should not miss The Chalet de Pierres and La Folie Douce. Their menus are full of savoury and sweet specialties. If you crave seafood, make it possible with The Nama Japanese Restaurant. The signature Japanese dishes include Otoro tuna, Wagyu beef, ramen, sushi, and sashimi.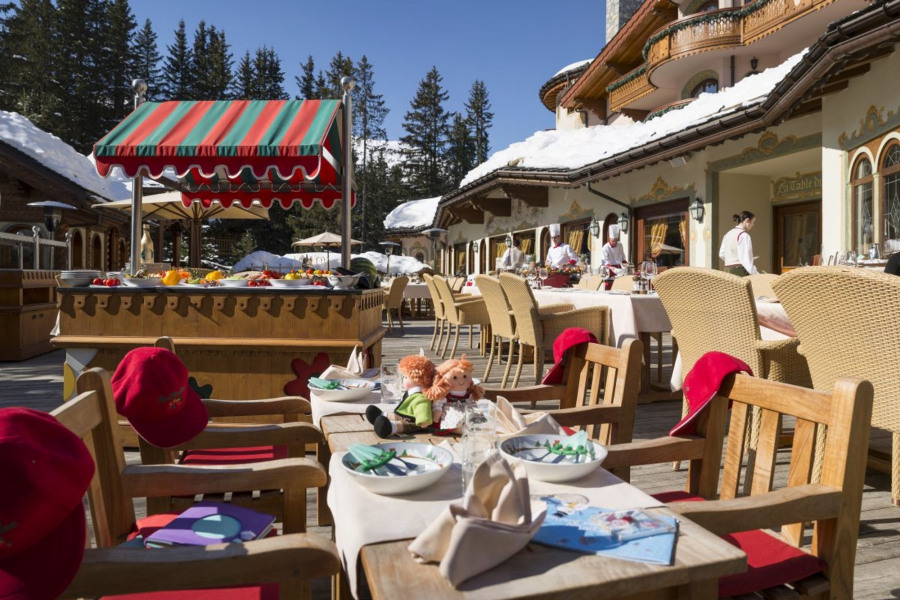 Other Facilities
The Ski Room
Make your skiing experience even better with the ski room by Bernard Orcel. You can find exclusive modern equipment, ski wear, and accessories. There's nothing to complain about the services, including ski valets, putting on your skis at the hotel, equipment delivered directly to your accommodations and coming back after skiing with hot drinks and gourmet snacks served.
The Spa
Le Mer Spa of Airelles Courchevel invites you to have the most relaxing moments. The intimate and calming decoration, unique therapies, and massage techniques will give you ultimate relaxation and second-to-none experience. A hammam and a jacuzzi are heated to 40 degrees, waiting for you to immerse. Besides, Le Mer also offers fitness hairdressing and nail care services.
The Boutique
The Vanille et Lilas boutique includes a selection of products from high-end collection properties. You can find traditionally-created textiles, home-deco objects, items from niche brands, etc. The boutique opens from 10 am to 8 pm.
Others
Les Airelles Courchevel conducts lots of activities to make your trip more fun and memorable. They include discovering the Airelles horse-drawn carriage, heliskiing, off-piste skiing, sledding by night, and dog sledding.
The Bottom Lines
Les Airelles Courchevel deserves a 5-star award for the experience they bring to their customers. It's a real snow-covered legend in a Kingdom of Dreams that you should not miss when visiting Courchevel.