Experience the Majestic Charms of Cheval Blanc Courchevel
16/06/2023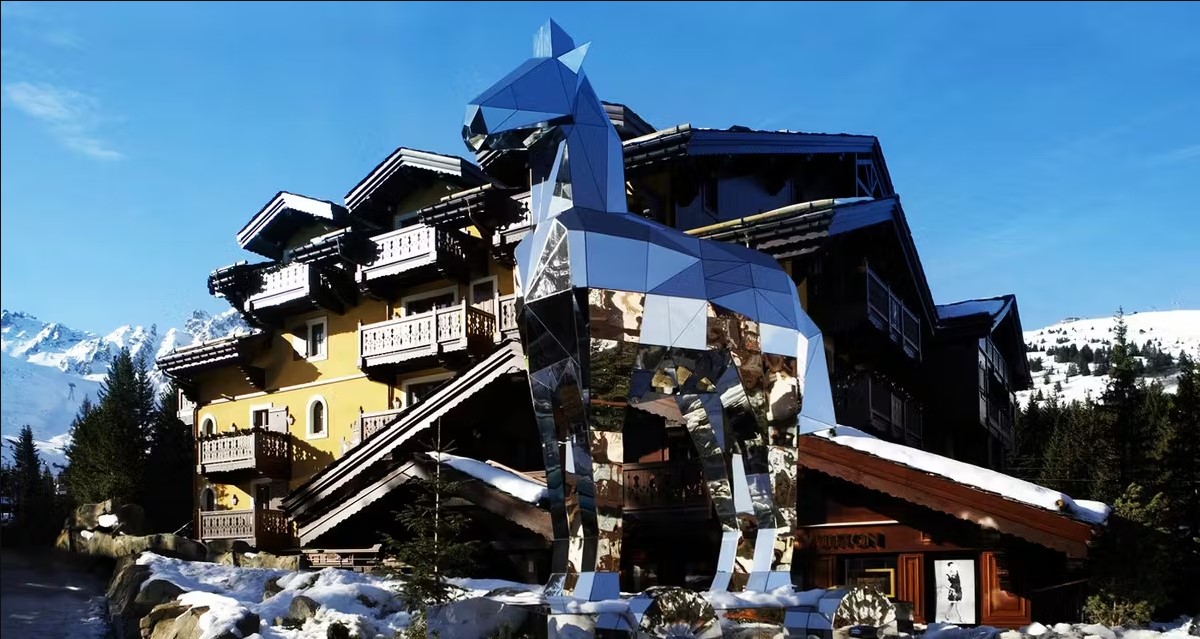 Cheval Blanc Courchevel is a perfect place to relax and enjoy impeccable services. Let's find out what this Maison can offer you in detail!
If you want to escape from your busy life to unwind in the prestigious Alps, there's no better choice than Cheval Blanc Courchevel, where you can immerse yourself in refinement and elegance.
This contemporary ski-in ski-out Maison, a crown of Courchevel 1850, stands at the height of 1850 meters, right in the center of the Alpine Garden. It's a favorite vacation destination of luxury connoisseurs and fashion elites. Scroll down to explore this luscious hotel right now!
Overview of Cheval Blanc Courchevel
Cheval Blanc Courchevel was created by a businessman named Bernard Arnault with a harmonious combination of traditional hospitality and contemporary concept. Coming to this modern Chalet, you will feel its coded luxury has no end. Everything is made with boldness and modernity, blending with the sense of art. Every corner and wall of this opulent hotel is decorated with an object d'art and avant-garde photography, pleasing the souls of all art lovers.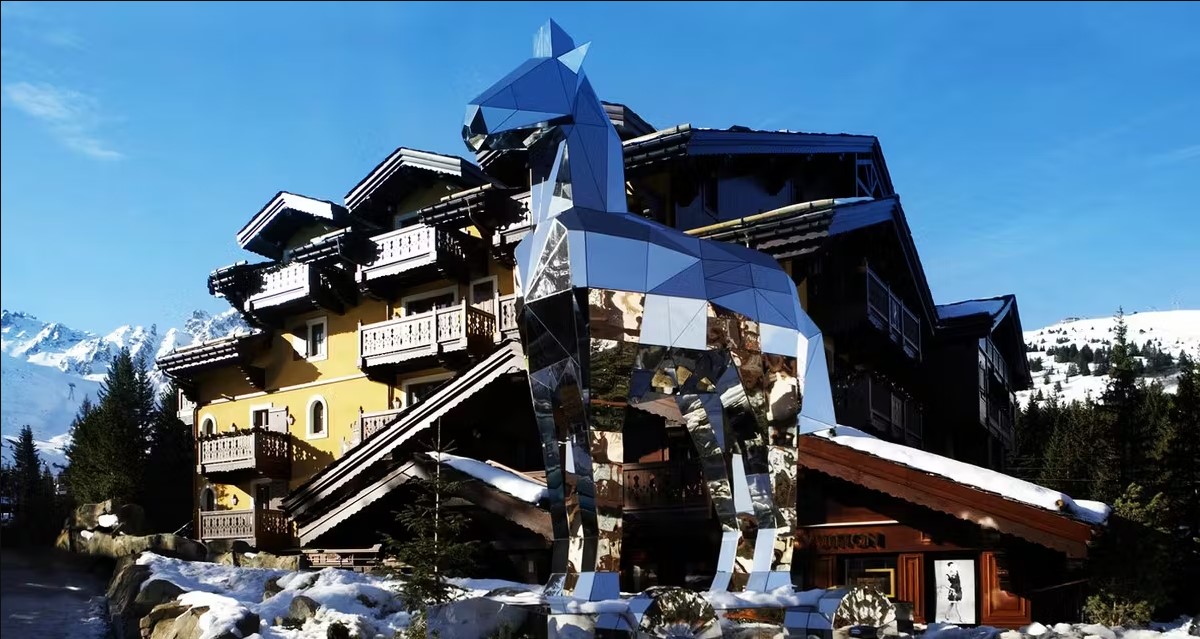 From this snow-covered palace, you can directly access the world's largest skiable domain, the slopes of the Three Valleys. Your skiing party can start anytime you want. Besides skiing, this multifaceted resort has a list of activities to offer travelers, such as dining in Le 1947 à Cheval Blanc, the MICHELIN-starred restaurant, pampering yourself with Guerlain exclusive treatments in Spa Cheval Blanc, and experiencing the well-equipped gym and swimming pool.
Cheval Blanc Courchevel has 36 rooms and suites with a minimum square of 40m2. They all are facilitated with modern equipment combined with works of art, bringing a feeling of luxury and elegance. In addition, the dedicated, well-trained staff is an important part of your amazing all-encompassing experience here.
An In-Depth Look at the Accommodations
Cheval Blanc Courchevel offers a range of chalets, rooms and suites, each designed with elegance and comfort in mind:
The Apartment
The Apartment is your own kingdom at the height of the Alps. This most guarded place sits on the top two floors of Cheval Blanc Courchevel, offering you ****the picturesque landscape of the area. It's more than 650 sqm and is facilitated with a private apartment lift and ski salon leading to the slopes.
You will find it a spacious and exquisite hideaway with three bedrooms, a dining room, a private kitchen, and a bar on the fourth floor. It's not to mention a triple reception room with a grand piano. Moving up to the fifth floor, you'll see the master bedroom (which includes two bathrooms and dressing rooms), a fitness center, and a private spa. All are ready to bring the most inviting ambiance.
The Chalet
The renovated Chalet grants 315 sqm over four floors and offers direct access to the hotel's facilities. It's decorated with traditional mountain materials and artwork, making it a perfect and unique retreat. The spacious bedroom offers a living room, dressing room, and bathroom. From your bedroom, you can capture the breathtaking snow-veiled landscapes.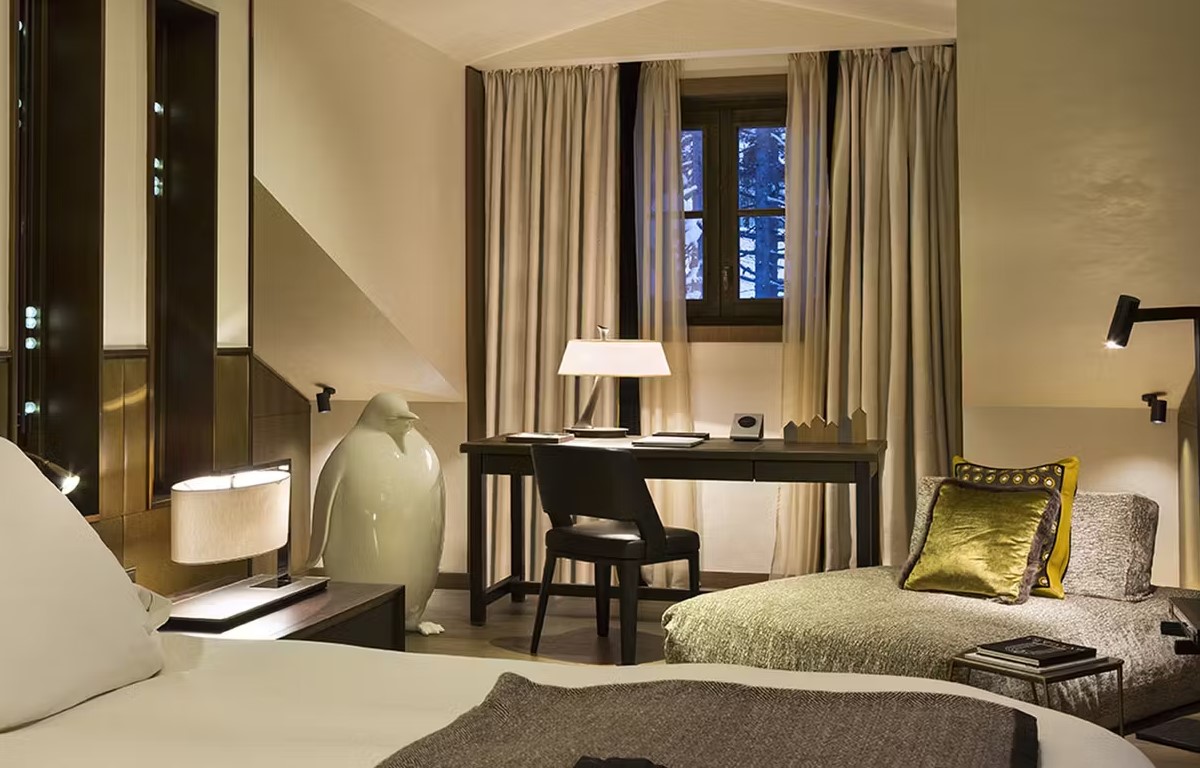 Your Chalet also comes with a vast living area providing you with everything you need for relaxation. It has a modern fireplace, a private screening room, a dining room, a relaxation lounge, a spa, a hot tub, and a sauna.
⇒ Maybe you'll be interested in: Top 5 Best Private Chalet Hire for a Vacation to Remember
Deluxe Superior Rooms
There are 11 Deluxe Superior Rooms designed in different shades of colors, such as deep plum, warm red, lush orange, or tempered beige. Each room is from 45 to 48 sqm and exposed to the South, where the stunning views of Saulire are captured. It has a cozy living space, a private terrace or balcony, a bathroom with a hammam shower and bathtub, a separate toilet room, and an independent dressing room. Connecting rooms and limited mobility-accessible rooms are also available in Cheval Blanc Courchevel.
Superior Rooms
Are you searching for a warm and contemporary ambiance? Superior rooms with green, brown, and orange tones are the right choice for you. The Maison offers six 40-to-42-sqm Superior Rooms with a bathroom (chromotherapy hammam-shower and bathtub are included), a vanity, and a dressing room. Depending on location, the rooms may feature a sun-bathed balcony or a terrace.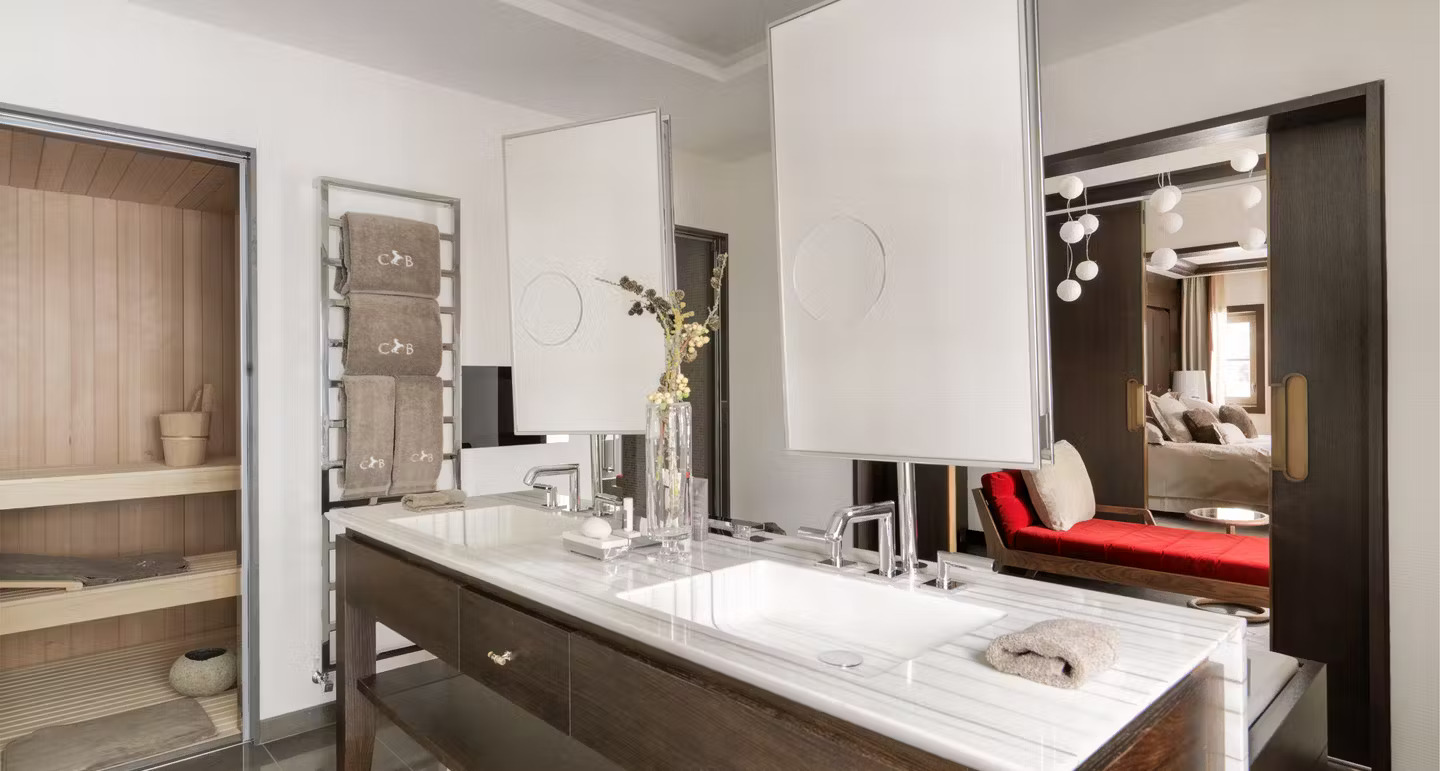 Deluxe Duplex Suite
Deluxe Duplex Suite comes in white and red with the highlight of dark wenge wood, interpreting an atmosphere of luxury and modernity. It's around 105 sqm with a staircase leading between floors. The rooms include a bedroom, living room, dining room, dressing room, bathroom with sauna and massage table, and a reading nook. Cheval Blanc Courchevel takes care of every detail to offer you complete privacy for your vacation.
Duplex Suite
Nowhere can bring the feeling of home better than the 75-sqm Duplex Suite. Its welcoming decor of soft colors and luminous living area is perfect for relaxation. The first floor hosts a large living room, a grand balcony, and a lounging area (including a desk and library). Meanwhile, the second level features a terrace, a light-filled bedroom, a bathroom with private vanity, and a dressing room. All rooms are equipped with authentic Cheval Blanc Courchevel Mountain Chic amenities.
Deluxe Junior Suite
A loft-style design is never out of date. The 65-sqm Deluxe Junior Suite is your sweet cocoon, including a bedroom, a living room, a dining room, a bathroom, a powder room, and a coat closet. There is a clever sliding wall separating the living space from the dressing area. You'll find a perfect view over the slope through the private balcony in the living room.
Gastronomic Delights at Cheval Blanc Courchevel
In Cheval Blanc Courchevel, there's no definition of "food" but "culinary art," and it's not exaggerated. Feel free to replenish your energy with the highlights of French cuisine in Le 1947 at Cheval Blanc Courchevel, Le Triptyque, La Table de Partage, the Cigar Yurt, and Le Bar.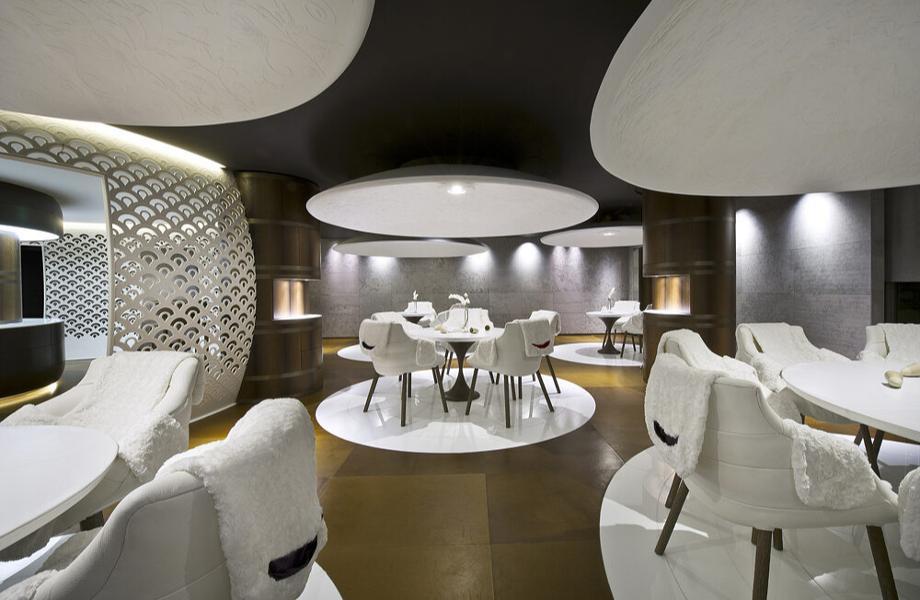 The signature gastronomic restaurant of the Maison is Le 1947, a three-MICHELIN-starred restaurant. The head chef Chef Yannick Alléno and other chefs know how to create the best refined French savoir-faire to awaken customers' senses. Your gastronomic and sensorial adventure seems to have no end, with surprise after surprise. Le 1947 also obtains a sleek and breathtaking contemporary style, drawing attention at first sight.
Indulge in the World-Class Amenities
Let's take an in-depth look at the various amenities offered at this prestigious property:
Pool & Spa
Nothing is better than pampering yourself with the signature treatments of le Cheval Blanc Spa after a long voyage. Massage and special treatment will ensure you an entire sensorial journey.
Moreover, a pool and the adjoining Jacuzzi are the best combos to add to your delightful moments. You can try aqua biking, cold plunge bath, hammam or sauna, etc., giving you a second-to-none experience. In addition, the final Guerlain teas with mythical fragrances perfectly complete your relaxation.
Gym
The fitness center is well-facilitated with modern Technogym equipment; thus, you will not miss your scheduled gym activities such as yoga, boxing, or stretching. In Cheval Blanc Courchevel, not only staff but personal coaches are also professional, well-mannered, and willing to assist you anytime.
Hair Room
How about having a new hairstyle during your vacation? Yes, with Cheval Blanc Courchevel, you can do it. Meet the famed Parisian hair stylist John Nollet for a unique hair experience with the least effort!
Conclusion
Sophisticated, elegant, and modern are what we can say about Cheval Blanc Courchevel. Its artistic design, authentic culinary, and ultimate services make up the unique charm of this Maison. If you are looking for a place to unwind this winter, check out this option. It will surprise you more than you thought!
To make your stay even more seamless, we recommend utilizing the services of Courchevel Chalets And Apartment. Begin planning your extraordinary winter getaway today and create memories that will last a lifetime.