La Ferme Saint Amour Courchevel: Glamour Meets Slopes
29/09/2023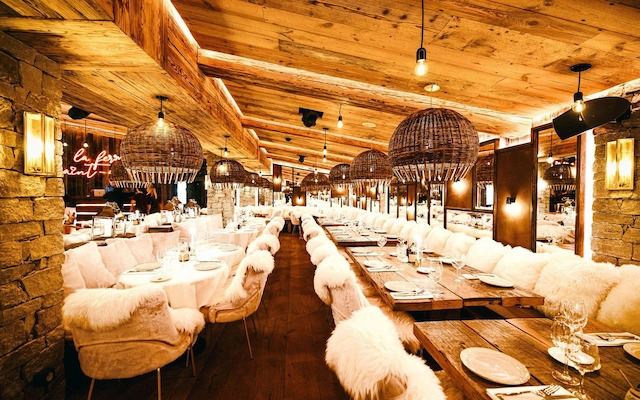 Source: Courchevel Ski Resort France
La Ferme Saint Amour Courchevel is a boutique hotel located in the beautiful French Alps, specifically in the renowned ski resort town of Courchevel. This small hotel in the center of Courchevel is a well-kept secret among travelers looking for a unique and amazing mountain experience. Originally a traditional Savoyard farmhouse, it has been meticulously restored to offer guests a cozy and elegant retreat.
In this article, we'll dive into the magical world of La Ferme Saint Amour Courchevel, learning about its long past, high-end services, and interesting things to do.
Why Should You Choose La Ferme Saint Amour Courchevel?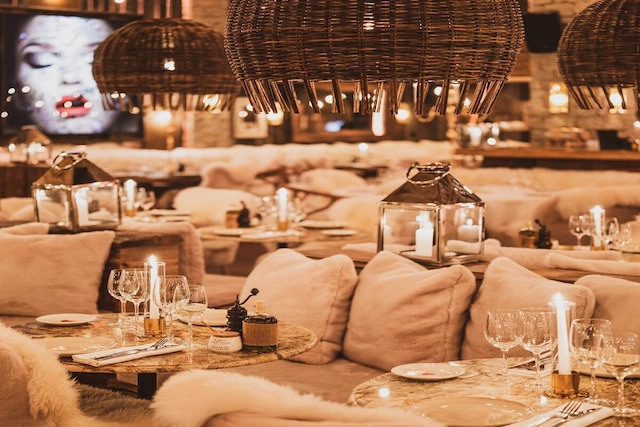 Source: Luxury Concierge Service
Beautiful Scenery and Setting
La Ferme Saint Amour Courchevel isn't just a hotel; it's also the entrance to a beautiful mountain wonderland. This cozy place has a beautiful location in the heart of the French Alps. You may relax and take in the stunning scenery. Large, snow-capped mountains, dense forests, and pristine mountain meadows provide its picturesque backdrop.
Culinary Delights
"La Ferme Saint-amour" has dazzled its visitors with delectable cuisine and exciting festivities in the center of Courchevel for 8 straight seasons. Eric Fréchon, a chef with three Michelin stars, is in charge of the kitchen this year. He really has a meal for every palate. The menu offers reimagined French cuisine dishes like onion crepe, Asian accents like herbal dim sum, and well-known classics like lobster linguini as its icing on the cake.
After a long day of skiing, guests can relax in the bar with a glass of wine in front of the roaring fireplace. The hotel's friendly and helpful staff ensure that every moment is nice and welcoming.
Well-Equipped Accommodations
When people walk into the hotel, they are immediately struck by how rustically elegant the mood is. The old furniture, warm color choices, and soft fabrics all work together to make the room feel cozy and welcoming. This is a location where you may experience both high-end amenities and genuine local culture.
La Ferme Saint Amour Courchevel's rooms were created with the utmost care and attention to detail. Each accommodation in our chalet-style hotel is not only elegantly decorated but also intelligently furnished to guarantee your utmost convenience. All the comforts of modern life are thoughtfully included, making your stay as relaxing as it is luxurious. The rooms also include stunning views of the nearby mountains, giving guests a daily dose of natural beauty upon waking.
Exclusive Services and Amenities
The dedication to offering visitors unique services and facilities is what makes La Ferme Saint Amour Courchevel stand out. The hotel's staff is kind and helpful, and they are always willing to meet your needs. After a day of skiing, you may unwind in the spa or have the ski concierge assist you with anything else you might need. It's the kind of setting where every detail was designed with you in mind.
Must-Try Activities When Staying at La Ferme Saint Amour Courchevel
During your stay at La Ferme Saint Amour Courchevel, there's an exciting array of must-try activities that will make your Alpine retreat truly unforgettable: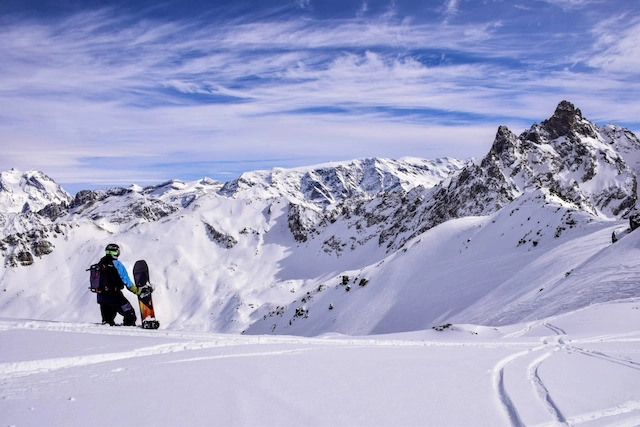 Source: Ski Magic
Skiing and Snowboarding
Courchevel is known for having great places to ski or snowboard. You can hit the slopes and ski down the beautiful mountains whether you are a newbie or a pro. Don't worry if you're new to this – there are lessons available to help you get started.
Snowshoeing & Snowmobiling
Snowshoeing is like putting on special shoes and going for quiet walks in the snow in the winter. Try sledding if you want something a little more exciting. You'll go fast through the snow-covered trails and feel the wind in your hair.
Cross-Country Skiing
This is like regular skiing but on flatter ground. It's a bit slower and a great way to explore the snowy landscapes at your own pace.
Ice Skating
Putting on ice skates is a great way to have a blast on the ice. Whether you've done it before or not, flying around the rink is a lot of fun, especially with the beautiful snowy mountains in the background.
Horse-Drawn Sleigh Rides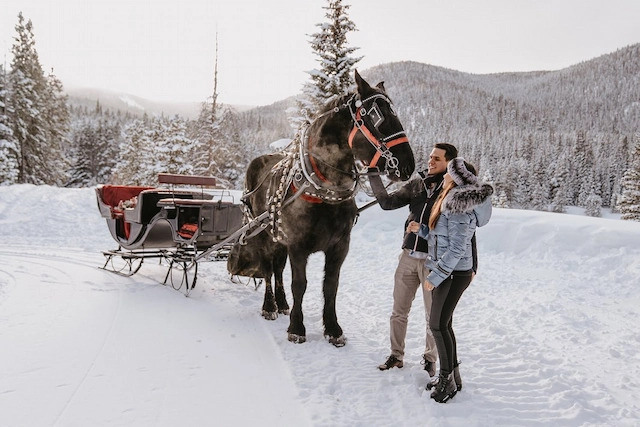 Source: Golden Horseshoe Sleigh Rides
Get on a horse-drawn sled for a cozy and romantic journey. You'll ride through the snow while wrapped in blankets and enjoying the beautiful winter scenery.
Indulge in Apres-Ski
Now that everything has been done, it's time to relax. "Apres-ski" is a fancy word for having fun after a long day of skiing. Having a cup of hot cocoa or a glass of wine in front of a warm fireplace is a great way to unwind.
Top 5 Hotels Near La Ferme Saint Amour Courchevel
Barrière Les Neiges Courchevel
Hôtel Barrière Les Neiges Courchevel is situated in the resort region of Courchevel and offers ski access right outside your door and a ski school.
There are two restaurants and a bar at the hotel. While BFire by Mauro Colagreco serves platters of mixed food roasted in a wood oven drawing inspiration from traditional Italian and Argentinian cuisine, Fouquet's restaurant gives patrons a gastronomic experience with a mixture of French cuisine and local flavours.
A ski pass office and a ski storage area are located in the hotel. Your skis and boots may be carried into the slopes by service personnel. On-site amenities include ski rental packages, a ski school, and a kids' club. Visitors may go shopping in Courchevel or take part in popular local pursuits like skiing and hiking. The establishment also provides a complimentary shuttle service.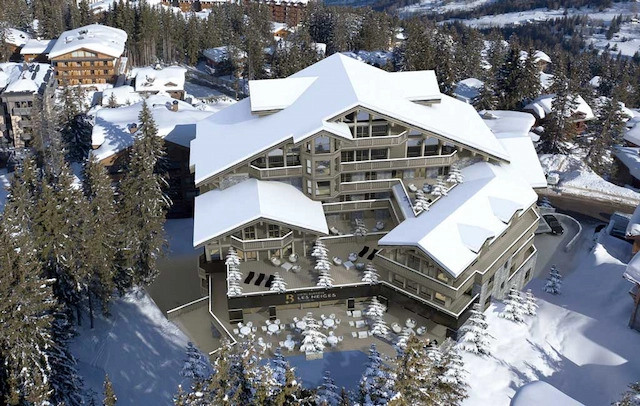 Source: Magazine Exquis
Hotel Annapurna
The 5-star family-owned Hotel Annapurna, which is situated at Courchevel's top and has ski-to-door access, has a spa and wellness area with a hot tub, two saunas, one hammam, and two fitness centers. A mountain view and a private bathroom with a bath or shower are features of each accommodation at Hotel Annapurna. Visitors may relax in the evening with a beverage from the bar.
Visitors may schedule massages and beauty treatments at the on-site spa, which employs CODAGE products. In addition to the indoor pool with lovely mountain views, the spa also has the only outdoor pool in Courchevel.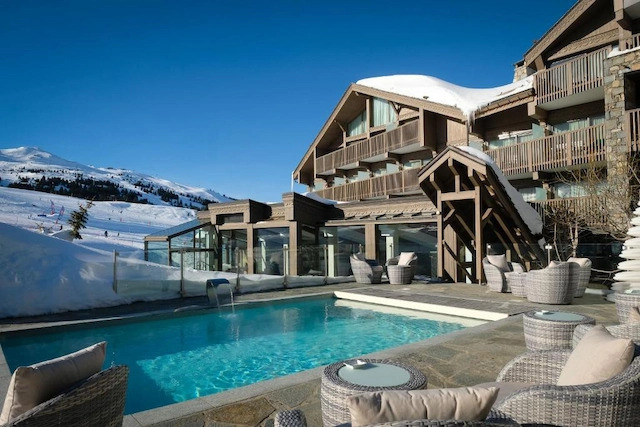 Source: Booking.com
Lys Martagon
The 5-star Lys Martagon in Courchevel, which is 8.9 km from Les 3 Vallées, has a patio, a restaurant, and a bar. The facility has a ski pass sales point and ski-to-door access and is located 18 km from Casino des 3 Vallées Brides les Bains and 22 km from Méribel Golf Course. The hotel features a kids' club, hammam, indoor pool, and karaoke.
Each hotel room has a desk, a balcony with a mountain view, a private bathroom, a flat-screen TV, bed sheets, and towels. An iPad and a coffee maker are provided in each residence at Lys Martagon.
Visitors may unwind in the spa and wellness center, which has a workout area, a sauna, and a hot tub, or in the garden with barbeque grills. The region is well known for its skiing, and Lys Martagon offers both automobile and ski equipment rental services.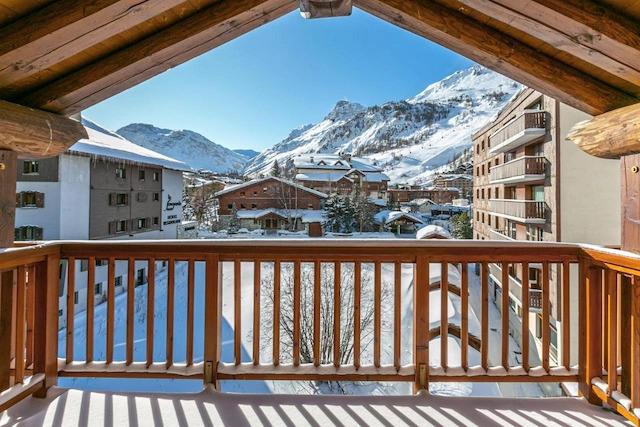 Source: Hotelmix
Hôtel Koh-I Nor by Les Etincelles
Ski-to-door access to the highest resort in the Three Valleys ski region is provided by Hotel Koh-I Nor, which is situated on the Val Thorens ski slopes.
In the coziness of their rooms, guests may have breakfast each morning. The hotel features two restaurants, including a brasserie, that serve both world cuisine and regional specialties. Meals may be had on the terrace, which offers sweeping mountain views.
There is a ski store and storage area on the property. At the resort, there is also a shuttle service. The distance between the hotel and Chambéry Airport is 112 kilometers and 37 km, respectively.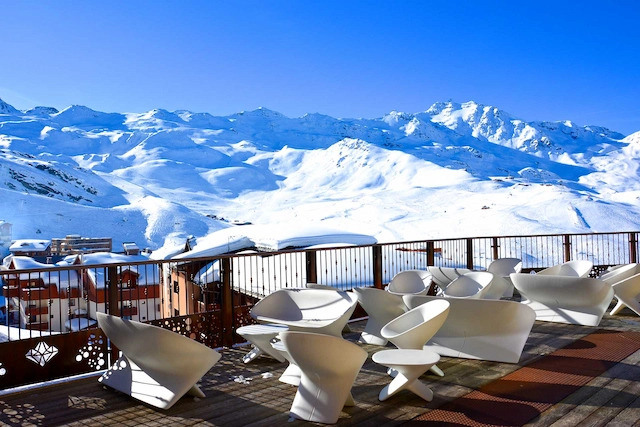 Source: YONDER
Les Suites de la Potinière
The Les Suites de la Potinière design hotel, located in the center of Courchevel on the Les 3 Vallées Ski Resort, has a ski store, an indoor pool, and a spa and wellness area. The cost of a massage may be adjusted.
Breakfast is available all day, à-la-carte, in the breakfast area or in the convenience of your room. On-site dining options include a restaurant and a bar, and room service is offered. The nearest grocery store is a hundred meters away.
While the hotel provides baggage storage and a 24-hour front desk, ski passes may be purchased on-site. The distance between Moutiers Train Station and the A43 Motorway is 24 km.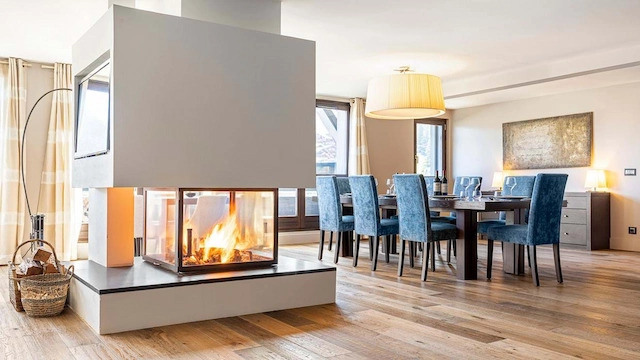 Source: Oxford Ski
Final Words
La Ferme Saint Amour Courchevel attracts people from all over the world with its charm, well-equipped rooms, excellent cuisine, and many things to do. So, enjoy the magic of La Ferme Saint Amour Courchevel, where glam meets slopes, and let it leave an unforgettable mark on your heart and soul.