Ski or snowboard for kids: What should I choose?
18/01/2023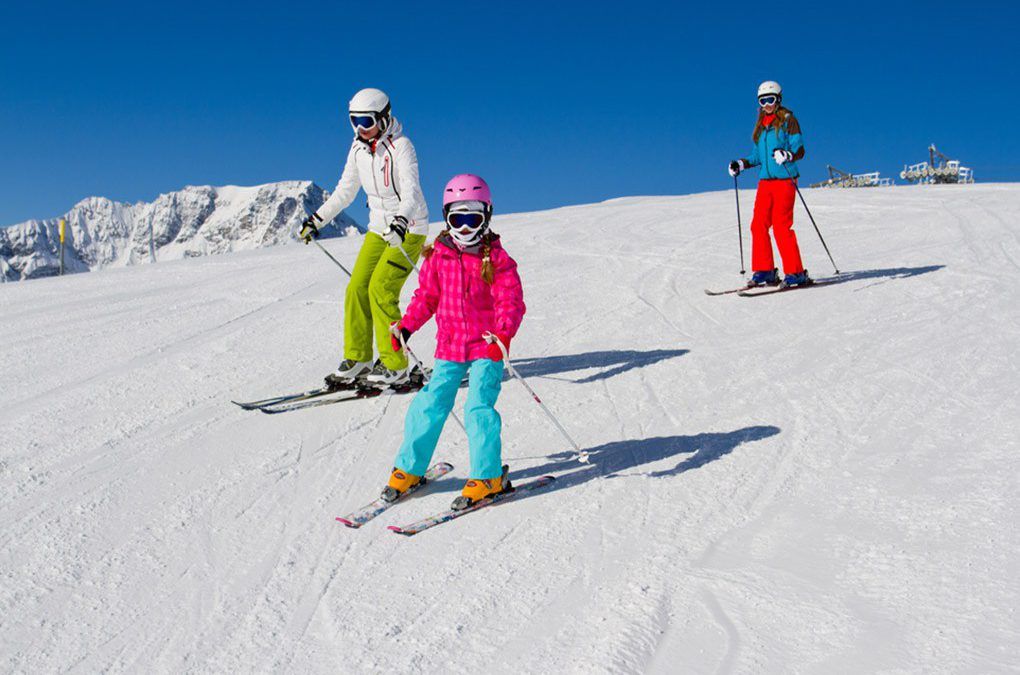 If your family is going on a winter vacation and you are wondering if you should choose ski or snowboard for kids? What is the cost of studying, and what are the preparations? We'll help you by answering key questions to help you make the best decision for your family.
Comparison between Ski and Snowboard
Choosing to learn between ski or snowboard for kids will make you anxious. Please refer by comparison to find out the advantages of these 2 sports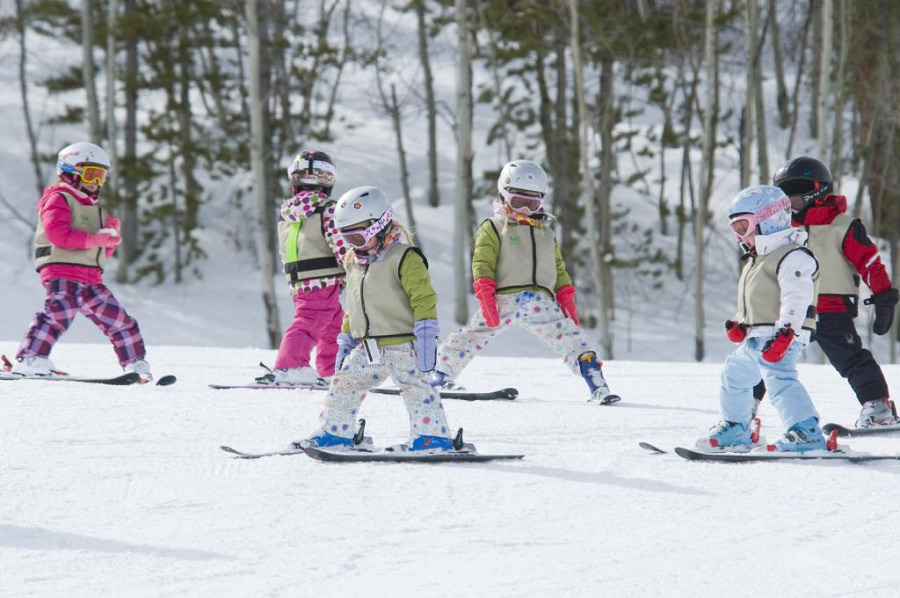 Ski class for kids
Which is easier?
Skiing is generally easier to learn but harder to get past the 'intermediate' level. Snowboarding is harder to study initially but easier to master.
Once you've mastered the art of linking turns on your snowboard, you'll find it easier to progress faster and handle steeper slopes. At the same time, skiing can take longer to master, mainly because your skis can move in different directions to each other!
Snowboarding also has the advantage of being able to 'fall-leaf' to go down the complex slopes that you feel you need to be more confident about, and this is not easy for skiers. However, it is much easier in flat areas to maintain your speed or ski alone; while snowboarding might require one-legged sledding, 'bunny jumping,' or just grabbing your board and walking when you get stuck.
⇒ To better at understanding is it easier to ski or snowboard, check this out.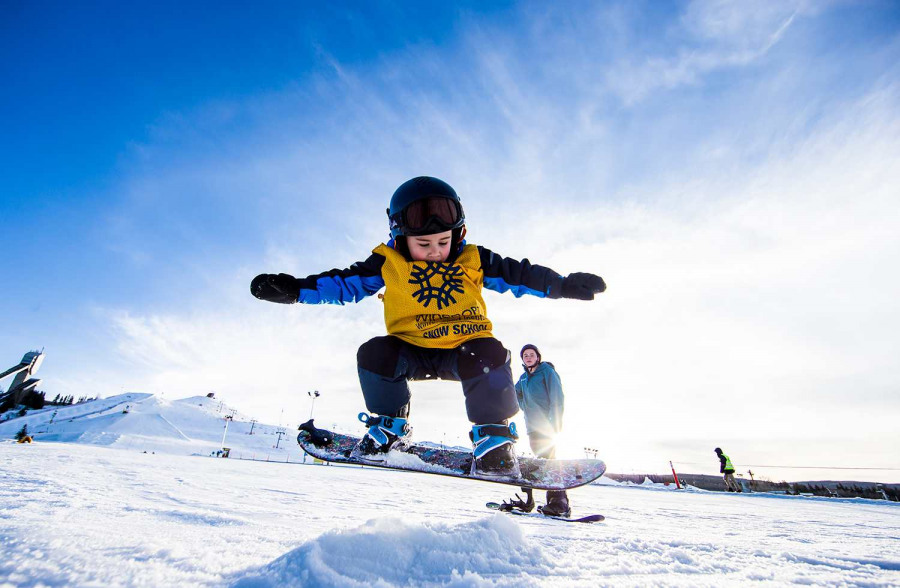 Kid enjoy snowboarding
Is skiing or snowboarding more expensive?
Despite what others may say, equipment is priced relatively the same, with ski equipment being 5-10% more expensive on average.
With so many new affordable skateboards, price should be a minor factor in your consideration. Saving $100-200 over the gear lifetime should be independent of your sport of choice for kids.
The cost of renting ski gear is higher in some places because you have to rent boots, laces, and poles here, while snowboarding only needs boards, laces, and boots.
⇒ *If you're looking for places to shop, here's The Best Shops to Buy Ski and Snowboard Equipment and Clothing in Courchevel*.
The best age for kids to learn Ski or Snowboard
Your kids can start skiing or snowboarding at any age. When they love kicking at 3 years old or start learning left and right at 6, they can learn skiing and snowboarding. The younger they are, the faster they can pick up skills.
Experts agree that starting skiing at the age of three is a good idea. That age is also the entry point for many ski schools. Children under the age of five frequently struggle with the mechanics of standing sideways on a snowboard. They recommend that children should begin snowboarding at the age of seven.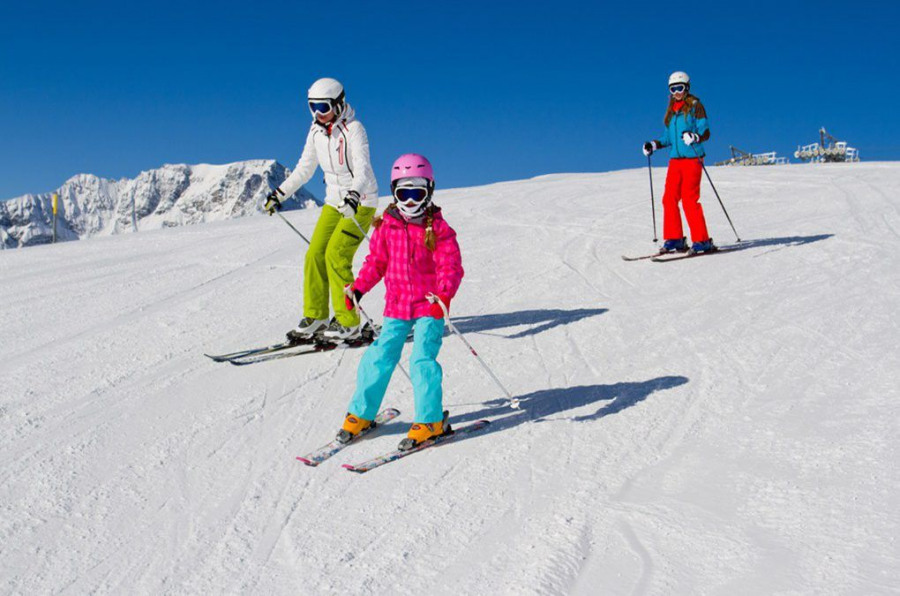 The best age for kids to learn Ski or Snowboard
What do you have to prepare for kids when playing skiing or snowboarding?
To give your child the best skiing or snowboarding, you need to prepare the following:
Check the weather forecast regularly. Prepare clothes suitable for the weather. Wear layers of clothing and bring extra hats and gloves to keep the body warm.
Sign up for a ski or snowboard course. If your child is new to skiing, sign them up for lessons with a certified instructor. This will helps your kid acquire the correct and proper skills.
Know the condition of the slopes. Do not ski or snowboard on closed or off-limits trails or if you don't know its conditions. Try to observe your kids closely every time they slide.
Exercise and stretch to warm up before hitting the slopes.
We also recommend that your child should sign up for professional ski or snowboarding courses to get them off to a good start! At Chalet & Apartment Rentals, there is a registration service for ski and snowboarding courses at prestigious schools in Courchevel, such as Oxygene, Cab9, ESF, Marmalade, etc. Besides, the whole family can also comfortably rent or purchase ski and snowboarding equipment at reasonable prices on our Website HERE.
=> Check out our kids services for more information.
Safety First!
Never leave a child skiing or snowboarding alone. Ask your child to check in with adults regularly.
Help your child identify physical and environmental hazards like trees or icy patches on the trail.
Respect limits. While children enjoy attempting progressively more difficult slopes, you should teach them that they only do so when their skills improve.
Remind your child to check themselves for frostbite frequently. Also, assure them that they can take a break if they're tired.
Don't let your kids ski when they're distracted. Don't listen to music while skiing to reduce injury.
Final Lines
We hope that by reading this article, you have learned more insight about skiing and snowboarding, and it has helped you decide whether ski or snowboard for kids is the best option.
Please weigh the benefits and drawbacks of each sport as you make your decision. The best thing you can do for your kid is to let him or her try out both sports if you have the time. Keep in mind that you should always try to motivate, inspire, and bring out the best in your kids when they are learning.
Contact us:
UK Booking Office: +44 (0)20 386 80 461
Winter Resort Office: +33 (0)4 56 38 67 81
Mail: holiday@courchevel-chalets-apartments.com