Ecrin Blanc Courchevel: The Jewel of the French Alps
31/08/2023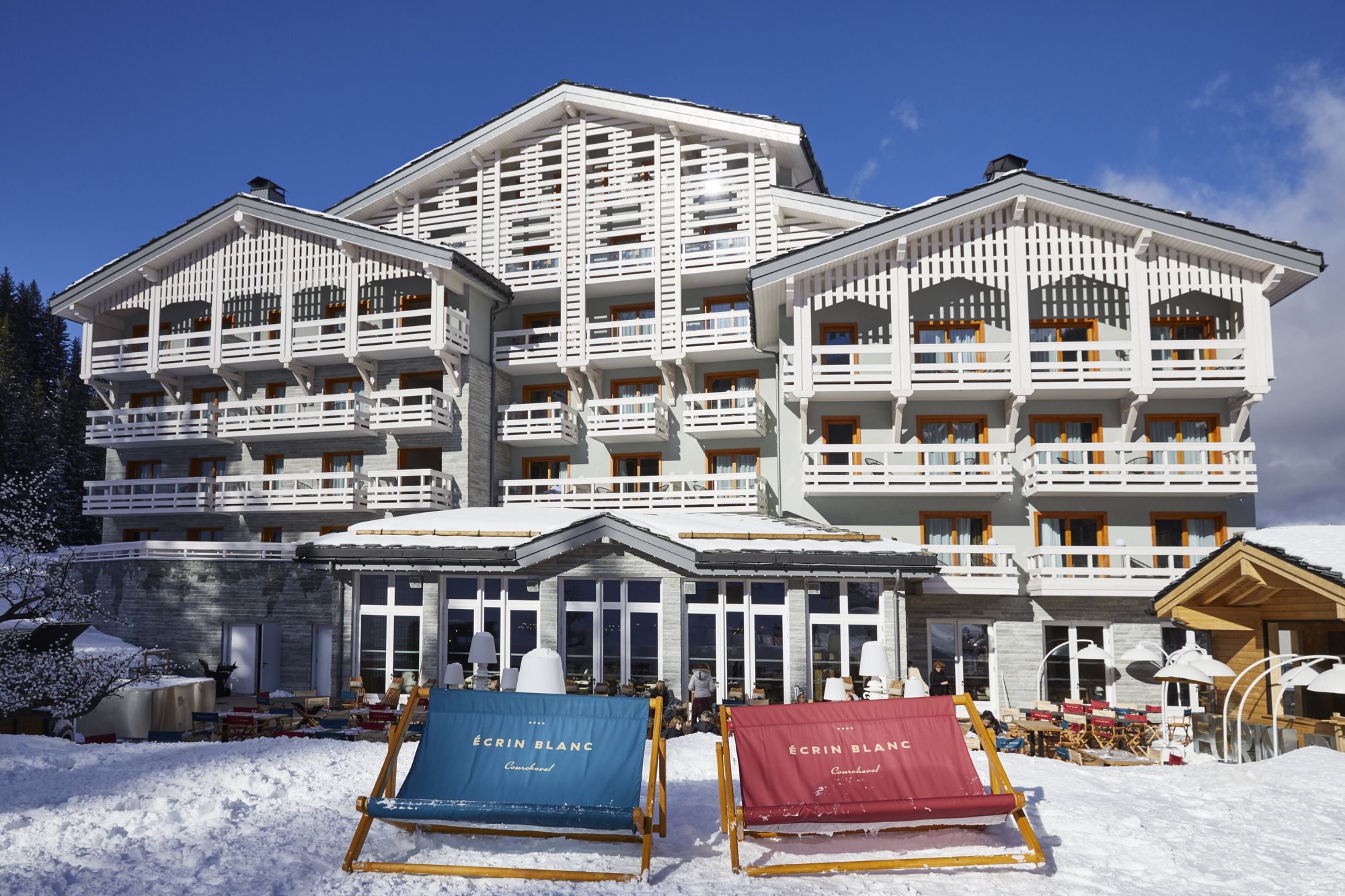 Ecrin Blanc Courchevel is a 4-star hotel with all high-end services to ensure you the best possible stay. It boasts a wide range of accommodations, three restaurants and a bar, a big terrace as an ideal meeting point for all ski lovers, and other relaxing options.
This article will discuss in detail why you should choose the resort for your stay during your skiing journey to the slopes. Let's follow along!
Experience Alpine Elegance at Ecrin Blanc Courchevel
About the Resort
Ecrin Blanc Courchevel is located 4km away from Les Three Vallées. This ski-in/ski-out resort has direct access to the "Grandes Combes" chairlift, bringing you to the Three valleys within a few seconds. All you need to do is put on your skiing equipment and prepare for the slides.
The ski shop and ski room at Fleur de Neige are well-equipped with warm shoes and prepared skis, so you can come and start your activity anytime. If you are looking for some clothes for skiing, visit the store by Erin Blanc; you'll find all the items you need.
Their south-facing terrace is an ideal gathering address at the foot of the hiking and mountain bike trails. The activities can be altered depending on the day and season to ensure you have wonderful moments with your family and friends.
The kids club, opening in July and August for children from 4 to 11 years old, is a place of dreams for young customers. The hotel offers a dedicated professional team to conduct different daily programs. Your kids can have fun in their Club while you can enjoy the snowy mountains.
Finding a truly pet-friendly resort can be a challenge, many places might claim to welcome pets, but the experience often leaves much to be desired. That's why Ecrin Blanc Courchevel stand out, so if you have a furry friend under 9kg, they're welcome. They will be treated as kings and queens with a little extra fee.
Their staff can speak English, French, Italian and Spanish. They are well-trained and willing to answer all your requests anytime. The front desk works 24 hours with practical information.
Accommodation
All 127 rooms and suites are the perfect combination of mountain style and purity. Coming to Ecrin Blanc Courchevel, you'll feel a comfortable and relaxing ambience. Nobody can reject the charm, elegance, and authenticity that the hotel brings about.
Rooms
There are three types of rooms: the cocoon rooms, the superior cocoon rooms, and the privileged cocoon rooms. They are all around 30m2, suitable for 2 or 3 people. You can enjoy a gentle stay after hiking in these spacious, warm, and cosy cocoons. The privileged cocoon rooms feature a balcony, offering a great view of the mountain.
Suites
The suites range from 40 to 55m2, capable of 4 guests staying. They include the suite, the family suite, the superior suite, and the love at first-sight suite. They are all charming with unique decor styles, offering you a bright living space to enjoy with your partner and family. Most of them feature a terrace and windows facing the beautiful snowy landscape.
Apartments
The apartments of Ecrin Blanc Courchevel are where you'll feel at home. This blend of the mountain's charm and refined decoration will provide you with super comfort. The large suite and the superior large suite are 50m2 and 65m2, respectively. Each can serve six people with modern amenities.
The very large suite, boasting a spacious space from 80 to 120m2, is an ideal option for big family and friends to share great moments together. The Savoyard charm and refined and cosy decoration make it a worth-living place. The double terrace, helping you capture the panoramic snowy landscape, is a real highlight of the suite.
Restaurants and Bars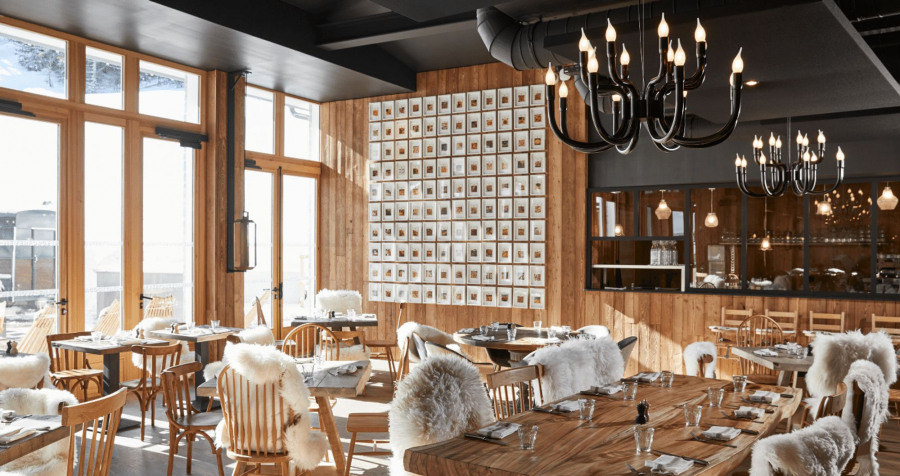 With the Grill and its Terrace, the chef and his team will bring fresh ingredients from the farm to your table. Enjoying your sumptuous dishes in an elegant-designed and friendly atmosphere will make your skiing trip perfect.
Ecrin Blanc Courchevel is well-known for its chocolate factory. If you want to travel to the sweet and delicious chocolate world, head to the heart of the Cellar on the ground floor. You can find both old-fashioned cake and maxi marshmallow hot chocolate. Besides, you can't help but be mouth-watering with the madeleines de Proust galore: fondant and soft shortbread in their factory.
In addition, if you join the Aquamotion water park, you also have a chance to have a gourmet moment with your feet in the water. The Pool Club is the place where you can take a break and refill your energy. They offer gourmet hot dishes, homemade burgers and sandwiches, and other sweets. The Club is opens from 12 to 6 pm.
Aquamotion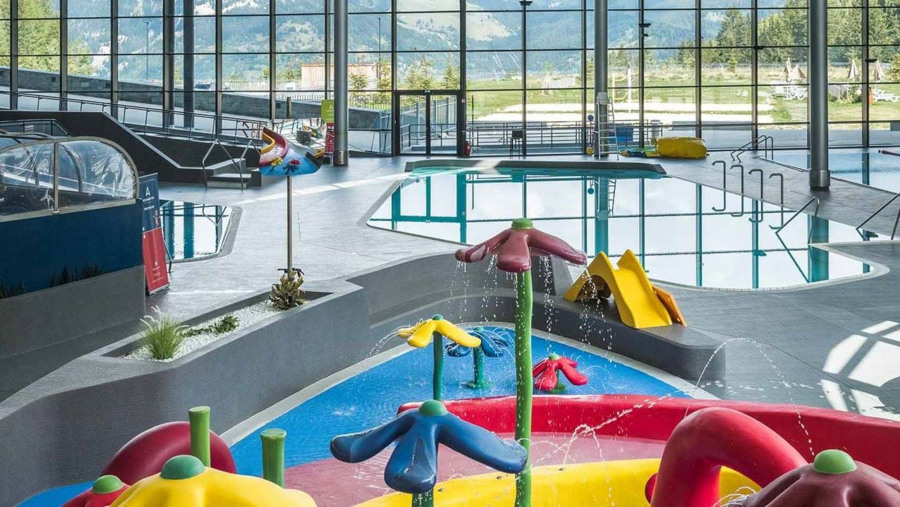 Aquamotion is the largest water park at altitude in France. It features 11 pools & lagoons, a water slide, a climbing wall, and an indoor surfing wave. You and your family can have fun together with lots of activities such as indoor surfing, climbing walls, water sliding, etc.
Besides, you can unwind your body and mind with the wellness area. It has solarium hammams, jacuzzis, saunas, a salt grotto, effervescent baths, and indoor and outdoor heated lagoons. The massage therapies and treatments will pamper your body, guaranteeing a relaxing experience.
The Bottom Lines
Ecrin Blanc Courchevel is a perfect choice for all ski lovers and their families to spend unforgettable moments on the slope of the Alps. The ski-in and ski-out resort offers different types of rooms, suites, and apartments for your needs. Coming to the hotel, you can enjoy all high-end services. The Aquapark will especially give you a joyful water experience at the altitude of the Alps.